Deli Sandwiches
Comments/Questions:
If you are ordering items for a group of people, please let us know how many so we can include the appropriate amount of napkins, plasticware and condiments for your catering order.
Your Catering Solution For
Portage, MI
Hours
Monday: 8 AM – 8 PM
Tuesday: 8 AM – 8 PM
Wednesday: 8 AM – 8 PM
Thursday: 8 AM – 8 PM
Friday: 8 AM – 8 PM
Saturday: 8 AM – 8 PM
Sunday: 8 AM – 8 PM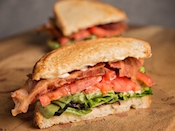 Choose from delicious sandwiches prepared on either whole wheat, rye, sourdough bread, herbed baguette, focaccia or a flaky croissant. All of our sandwiches are packed with fresh ingredients that will tempt the taste buds. We have choices for the vegetarian or the meat lover!
Choose Your Deli Sandwiches Below