Quiche
Comments/Questions:
If you are ordering items for a group of people, please let us know how many so we can include the appropriate amount of napkins, plasticware and condiments for your catering order.
Your Catering Solution For
Portage, MI
Hours
Monday: 8 AM – 9 PM
Tuesday: 8 AM – 9 PM
Wednesday: 8 AM – 9 PM
Thursday: 8 AM – 9 PM
Friday: 8 AM – 9 PM
Saturday: 8 AM – 9 PM
Sunday: 10 AM – 7 PM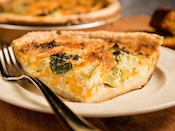 The perfect combination of eggs, cream and milk blended with various veggies, cheese and meat - all baked in our homemade flaky pastry crust. Choose from an assortment of mouth watering flavors!
Choose Your Quiche Below