Salads & Wraps
Comments/Questions:
If you are ordering items for a group of people, please let us know how many so we can include the appropriate amount of napkins, plasticware and condiments for your catering order.
Your Catering Solution For
Okemos, MI
Hours
Monday: 7:00 AM – 7:00 PM
Tuesday: 7:00 AM – 7:00 PM
Wednesday: 7:00 AM – 7:00 PM
Thursday: 7:00 AM – 7:00 PM
Friday: 7:00 AM – 7:00 PM
Saturday: 8:00 AM – 6:00 PM
Sunday: 9:00 AM – 5:00 PM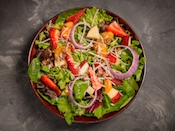 Choose from a selection of Specialty and Classic salads made with our lettuce blend and layered with fresh, crisp salad ingredients. We also have fresh fruit - a lighter option for any event. All of our salads are a perfect complement to our soups and sandwiches.
Check with your catering coordinator to select your salad dressings.
Choose Your Salads & Wraps Below