Pot Pies, Pasties & Soups
Comments/Questions:
If you are ordering items for a group of people, please let us know how many so we can include the appropriate amount of napkins, plasticware and condiments for your catering order.
Your Catering Solution For
Norton Shores, MI
Hours
Monday: 7:00 AM – 9:00 PM
Tuesday: 7:00 AM – 9:00 PM
Wednesday: 7:00 AM – 9:00 PM
Thursday: 7:00 AM – 9:00 PM
Friday: 7:00 AM – 9:00 PM
Saturday: 8:00 AM – 8:00 PM
Sunday: 11:00 AM – 5:00 PM
Closed Christmas, Thanksgiving, and Easter Day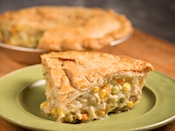 Our pot pies are a savory comfort food with meats and veggies all in our homemade flaky crust, available in 6" or 9". Our delicious pot pies are a favorite for any crowd!
Pasties are a true Michigan favorite! Meat and veggies wrapped in our special crust.
Warm and hearty soups that complement any of our freshly prepared sandwiches and salads. We offer a wide selection of soups that make a great addition to any luncheon buffet. Serve with a baguette and house salad for a complete meal.
Choose Your Pot Pies, Pasties & Soups Below