Pies & Other Desserts
Comments/Questions:
If you are ordering items for a group of people, please let us know how many so we can include the appropriate amount of napkins, plasticware and condiments for your catering order.
Your Catering Solution For
Midland, MI
Hours
Monday: 8:00 AM – 7:00 PM
Tuesday: 8:00 AM – 7:00 PM
Wednesday: 8:00 AM – 7:00 PM
Thursday: 8:00 AM – 7:00 PM
Friday: 8:00 AM – 7:00 PM
Saturday: 9:00 AM – 6:00 PM
Sunday: 10:00 AM - 5:00 PM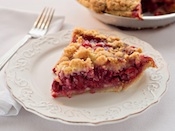 FOR HOLIDAY PIE ORDERS PLEASE CALL YOUR LOCAL SHOP.
AWARD WINNING! Fresh ingredients and a variety of local fruits are used to make our delicious pies. We bake over 40 fruit and cream pies that taste as good as they look! Choose from 6" or 9" pies or individual slices! We have several varieties of scrumptious made-from-scratch dessert bars and cookies that are great for a meeting, home party or the perfect end for any meal. Indulge your senses with a sweet temptation!
Choose Your Pies & Other Desserts Below