Box Lunches
Comments/Questions:
If you are ordering items for a group of people, please let us know how many so we can include the appropriate amount of napkins, plasticware and condiments for your catering order.
Your Catering Solution For
Lansing, MI
Hours
We're officially reopening in Downtown Lansing on Monday, September 14th!
Monday: 8:00 AM - 3:00 PM
Tuesday: 8:00 AM - 3:00 PM
Wednesday: 8:00 AM - 3:00 PM
Thursday: 8:00 AM - 3:00 PM
Friday: 8:00 AM - 3:00 PM
Saturday: Closed
Sunday: Closed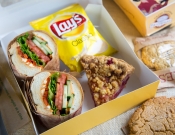 This ready to go combo comes complete with sandwich, side order and dessert in our unique portable pie box. Perfect for office meetings or for special events when you need to eat on the go. Choose from an assortment of our fresh sandwiches and chips. The hardest part will be deciding between a cookie or a slice of our hand made pie!
Choose Your Box Lunches Below